Slo­va­kia: "The gov­ern­ment failed."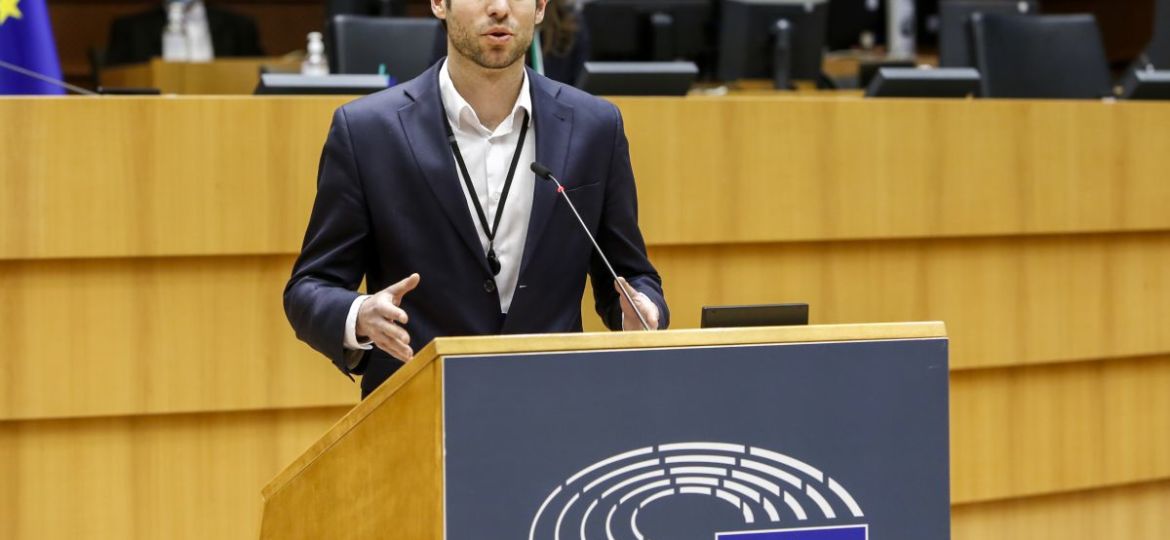 Slo­va­kia is one of the coun­tries hardest hit by the pan­demic in Europe. After MP Matovic and several min­is­ters resigned, liberal oppo­si­tion politi­cian Michal Simecka demands a fast solu­tion to the gov­ern­ment crises.
Slo­va­kia has the highest infec­tion levels in all of Europe, although the gov­ern­ment had the entire pop­u­la­tion tested as early as Novem­ber. What is the reason for this?
Michal Simecka: Unfor­tu­nately, we have been the hardest hit country in Europe since the winter, both in terms of infec­tion and death rates. In the first wave last year, the gov­ern­ment responded well. There are several reasons why the sit­u­a­tion has dete­ri­o­rated so dras­ti­cally. Our health system is nowhere near as good as in other EU coun­tries after the pre­vi­ous gov­ern­ment let it dete­ri­o­rate for years. Many doctors and nurses have left the country. In addi­tion, the highly con­ta­gious dan­ger­ous muta­tion from Great Britain is very wide­spread in our country. But a very impor­tant reason is the government's inabil­ity to manage the pan­demic. I say this not only as an oppo­si­tion politi­cian. Since the summer, it has made a series of wrong deci­sions instead of prepar­ing the clinics and the whole country for the second wave. Prime Min­is­ter Matovic has put all his hopes in the mass tests. To date, there is no clear data on what effect they had on the spread of the virus. But one effect was that people felt too safe. When the numbers went up, the gov­ern­ment imposed a lock­down too late, not until the begin­ning of the year. That was the crucial mistake.
The gov­ern­ment itself is deeply divided over how to deal with the pandemic.
Simecka: That is the reason why it is not able to present a common plan, agree on mea­sures and imple­ment them. Because of this chaos, the cit­i­zens no longer trust her or the mea­sures. And no longer follow them. The gov­ern­ment and par­lia­ment are paral­ysed after a number of min­is­ters resigned, includ­ing the Min­is­ter of Health and now also the Min­is­ter of Economy and Deputy Prime Min­is­ter Richard Sulik. The sit­u­a­tion is very crit­i­cal. We have a double crisis — Corona and a gov­ern­ment crisis.
Is the four-party coali­tion, led by the con­ser­v­a­tive-pop­ulist prime min­is­ter, at an end?
Simecka: It's hard to say. There is strong pres­sure on Matovic to resign. He says he is ready to do so, but he makes this con­di­tional on the other coali­tion part­ners and Sulik. At the moment, the gov­ern­ment is unable to act.
Should the whole gov­ern­ment resign?
Simecka: In the current tense sit­u­a­tion, where the hos­pi­tals are full, the economy needs more aid and the vac­ci­na­tion cam­paign still has to be imple­mented, it would be better if the gov­ern­ment crisis were resolved quickly so that the sit­u­a­tion is somehow managed. The Pres­i­dent has there­fore also called on the gov­ern­ment to end its squab­bling. Every­one wants a stable gov­ern­ment that acts. That is also the pri­or­ity for us as oppo­si­tion at the moment.
What is the mood in the country like?
Simecka: Accord­ing to polls, 80 percent of the cit­i­zens want the prime min­is­ter to resign. He has put himself in a posi­tion where people dis­trust him completely.
Could the coali­tion agree on a new head of government?
Simecka: That would be nec­es­sary. But the timing is most unfor­tu­nate, in the middle of the second wave. The coali­tion still has a broad major­ity in par­lia­ment, it could agree on a gov­ern­ment reshuf­fle. However, leading coali­tion politi­cians do not rule out a new election.
Why has Sulik resigned now?
Simecka: It is mainly due to per­sonal ani­mosi­ties. Matovic has treated him bru­tally and insulted him, he behaves in a hostile way towards the coali­tion part­ners. He has shown even before the Corona crisis that he is not willing to com­pro­mise and listen to others. However, there is also evi­dence that Sulik has tried to torpedo some of the Corona mea­sures, includ­ing Matovic's high-handed pro­cure­ment of the Sputnik vaccine from Russia. Sulik's party has now decided to no longer par­tic­i­pate in a gov­ern­ment under his lead­er­ship. In prin­ci­ple, however, it is stick­ing to the coalition.
Her pre­de­ces­sor as vice-chair of Pro­gres­sive Slo­va­kia, Zuzana Caputova, won the pres­i­den­tial elec­tion in 2019. That, too, was already an expres­sion of protest against Matovic. Why did your party nev­er­the­less not win a single mandate in the 2020 par­lia­men­tary election?
Simecka: Unfor­tu­nately, we missed enter­ing par­lia­ment by 900 votes. In polls we are at eight percent, which is quite good for an extra-par­lia­men­tary party. The sit­u­a­tion for the oppo­si­tion is very dif­fi­cult. On the one hand, there is Smer, the party of former Prime Min­is­ter Robert Fico, which is com­pletely dis­cred­ited because so much has been revealed about its cor­rup­tion and links to the mafia. It has to be acknowl­edged that Matovic did a lot to make sure that this was cleared up and judges and pros­e­cu­tors were able to look into it without polit­i­cal inter­fer­ence. Politi­cians, judges, police offi­cers and leading busi­ness­men were brought to justice. They had hijacked the state and they were all con­nected to Smer and Fico. In oppo­si­tion, he is becom­ing more and more radical. His party is also at eight percent, but no one wants to form a coali­tion with him. Rene­gade former Smer members have gone to another party under the lead­er­ship of the last prime min­is­ter, Pel­le­grini. They call them­selves Social Democ­rats or "Smer light" and are at 20 per cent. There are also fas­cists. The gov­ern­ment there­fore has it easy because there is no common oppo­si­tion to it.
The chances for liberal forces do not seem to be very good.
Simecka: The mood changes very quickly. A few weeks before the 2020 par­lia­men­tary elec­tion, Matuvic's party was only at six percent. Then in the elec­tion it got 25 per cent. Pre­dic­tions are there­fore dif­fi­cult. There is a need for a social, liberal, eco­log­i­cal alter­na­tive and I think that we as Pro­gres­sive Slo­va­kia fill this gap well. In an early elec­tion we should have good chances, because there is a lot of dis­con­tent not only about the Corona policy, but also about the fact that the current gov­ern­ment did not seize the oppor­tu­nity for a polit­i­cal change after the Smer gov­ern­ment was voted out, even though it has a two-thirds major­ity in parliament.
Do you coop­er­ate with lib­er­als in other EU countries?
Simecka: We coop­er­ate with Momen­tum in Hungary and have good con­tacts with the Neos in Austria. In the Euro­pean Par­lia­ment we are part of the Group of Lib­er­als and Democrats.
As lib­er­als, do you feel suf­fi­ciently sup­ported by forces in Western Europe?
Simecka: The sit­u­a­tion in Slo­va­kia is dif­fer­ent from that in Poland and Hungary. Despite all the government's mis­takes, espe­cially in the Corona policy, democ­racy is not in danger here. There are no attacks on the judi­ciary, freedom of the press or demo­c­ra­tic insti­tu­tions. On the con­trary, in the fight against cor­rup­tion and oli­garchs, the gov­ern­ment is acting well. But now it is failing.
Michal Simecka is the Vice Pres­i­dent of the oppo­si­tion party Pro­gres­sive Slo­va­kia which is also the party of Pres­i­dent Zuzana Caputova. He is one of two MEPs of the social liberal party and studied pol­i­tics in Oxfrod and Prague, was a fellow and jour­nal­ist with the Finan­cial Times.
Hat Ihnen unser Beitrag gefallen? Dann spenden Sie doch einfach und bequem über unser Spenden­tool. Sie unter­stützen damit die pub­lizis­tis­che Arbeit von LibMod.
Spenden mit Bankeinzug
Spenden mit PayPal
---
Wir sind als gemein­nützig anerkannt, entsprechend sind Spenden steuer­lich abset­zbar. Für eine Spendenbescheini­gung (nötig bei einem Betrag über 200 EUR), senden Sie Ihre Adress­daten bitte an finanzen@libmod.de